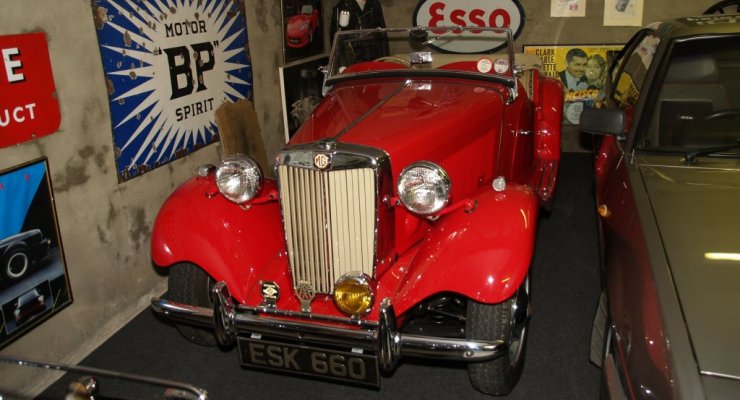 A Walk in the Past
Share this
The Abingdon Collection is a small privately owned speciality museum based near the Ulster American Folk Park in Omagh which raises money by donation for Cancer Research UK. The Collection spans over fifty years of an interest in classic cars, motorcycles, petroliana, enamel signs, bicycles, radios and memorabilia and also includes an extensive display of World War Two uniforms and collectables.
It would not be surprising that you have never heard of The Abingdon Collection as most of the visitors are from outside Northern Ireland and find us on TripAdvisor, but those that make the journey often come back again with friends. The Collection takes you through the dark days of the 40's through the 1950's and into the 1970's. Period music adds to the experience and most visitors are able to lock on to past distant memories and often say 'My dad had one of those'.
From an historical perspective the World War Two collection is internationally known and a guided tour brings the period to life with stories of battles fought, sacrifice and distant memories. This historically important collection attracts visitors from all over the world and a quick glance through TripAdvisor speaks volumes for the very positive response to how we try to bring the collection to life.
A very strong focus of the collection is to try to encourage young people to reflect on the past and if possible start collecting themselves. Unfortunately, the age range for collectors has risen dramatically over the years and young people are missing out on the joy of 'touching history' and collecting the past.
On arrival visitors are given the opportunity to dress up in original World War 2 uniforms, take their seat in a 1945 American combat jeep and get their photographs taken with their friends and relatives.
This leads you into a 1950's experience of classic sports cars, Harley Davidsons, music and nostalgia with fantastic photo opportunities. The next room moves you 20 years forward into the 1970's again reflected in the fashions of the day, the music, the cars and the motorcycles. This room also contains over 1000 die cast model cars and is fantastic for young children.
The World War 2 exhibition follows and this represents over fifty years of passionate collecting and research. There are over 2500 items on display and it gives the visitor time to reflect on the conflict and also provides a detailed and informative historical tour of this period.
So if you want a day out with a difference and an opportunity to step back in time just give Philip Faithfull a ring on 028 8224 3373 or check out the website for more information.
About Author
Share this